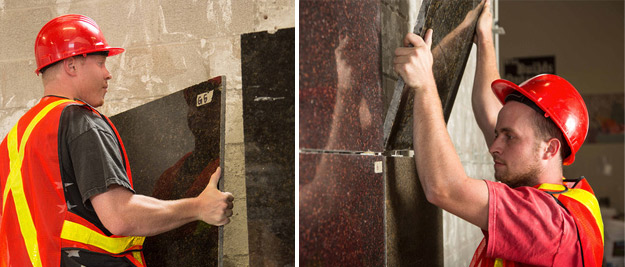 Terrazzo, Tile & Marble Trade School, Inc. (TTMTS) trains apprentices the skills of the terrazzo, tile and marble trade.
TTMTS students have the opportunity to work their way into rewarding careers in Ontario's unionized and non-unionized industrial, commercial, institutional (ICI) and residential construction sectors.
From marble cladding on the exterior sides of massive office buildings to tiling new home ensuites – TTMTS students learn all aspects of working with tile, terrazzo and natural stone.
In addition to the vital, hands-on Level 1 and Level 2 instruction in the 10,500 sq. ft. facility, students also participate in industry-relevant seminars and courses such as Fall Protection, WHMIS, construction math and estimating, Basic Construction Safety Training and Blueprint Reading.
TTMTS is a cooperative effort of the Terrazzo, Tile & Marble Guild of Ontario (TTMGO), Ontario's Ministry of Training, Colleges and Universities, and the Brick and Allied Craft Union of Canada (BACU/OPC).
The Trade School is Ontario's only tile, terrazzo and marble trade school, certified by Human Resources Development Canada and approved by Ontario's Ministry of Training, Colleges and Universities. It was started by TTMGO in 1990 to ensure a continuous stream of skilled workers for the trade.
What does it take?
physical dexterity and strength (some of a tile, natural stone and terrazzo tradesperson's work involves lifting and working with heavy tools and equipment)
math skills (to calculate and work with specifications and measurements)
Grade 12 is recommended but not required. Grade 10 is a minimium.
English (spoken and written)
your completed application
all Trade School applicants are invited to be interviewed by a committee, consisting of Trade School administration, Union and Ministry people
school transcripts are required.
Apprenticeship
is a 4-year process, accumulating 'hours' to gain Journeyperson certification
Trade School Basic 9-week course
360 hours: Monday to Friday – 7:30 a.m to 4:00 p.m.
Trade School Advanced 9-week course
360 hours: Monday to Friday – 7:30 a.m. to 4:00 p.m.
Hours earned at the Trade School are credited to "earn while you learn" on-the-job experience during your apprenticeship
Total hours for Apprenticeship
5,600 hours
Get started now on a rewarding career in the terrazzo, tile and natural stone trade.